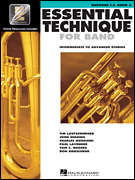 Essential Technique for Band Baritone T.C.
A technique-building program for any band, Essential Technique is also an excellent tool for individual or small group study. This is Book 3 of the Essential Elements beginning band system and features: Key-Centered System - 9 major and related minor keys - Scales, etudes, short chorales, and music technique exercises Individual Instrument Studies - Demonstrated by a professional soloist on your instrument - Accompaniments on the included CD are professionally recorded (not synthesized) Special Studies Section Reading Skill Builders, Rhythm Pages, Jazz Style and Improvisation, Full Chorales, Rubank Scales and Arpeggios - all included on CD Integrated History, Theory and Creativity Exceeds the National Standards for Arts Education More Great Music Classical, world music, folk and more
Essential Technique for Band Baritone T.C.
1001-00862630^00862630
0.42
---
Customer Reviews